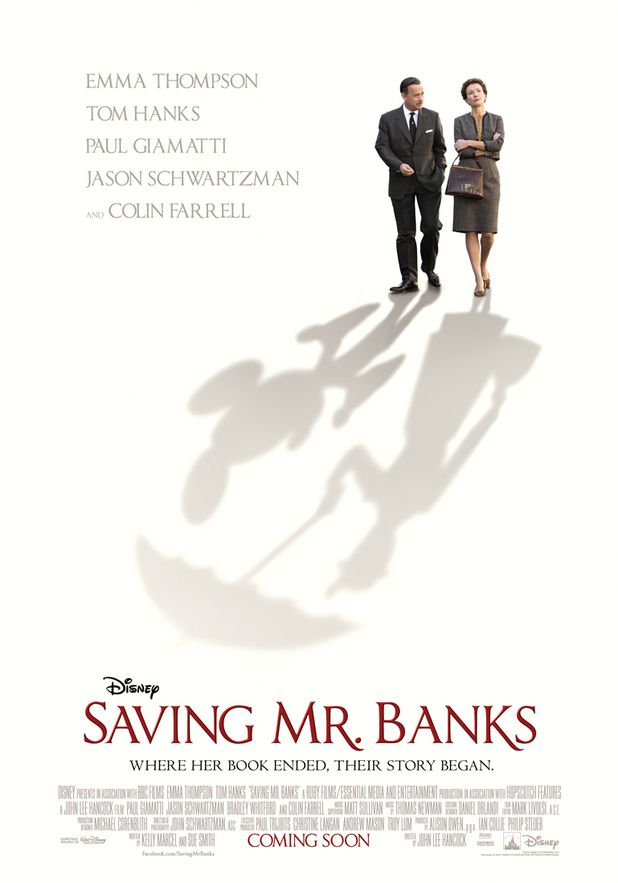 I suddenly find myself at a loss for words. Why did I go to see this film? Well Tom Hanks mainly as he is my favourite actor and I like films about films. I know a lot of about films in a general sense but Disney films are undoubtedly one of my weaker areas. My best friend who I went to see the film with has what I consider to an encyclopaedic knowledge of all things Disney, particularly the many animated features, so he came in handy.
The film is about Author P. L. Travers (Emma Thompson), who reflects on her difficult childhood growing up in rural Australia as she meets filmmaker Walt Disney (Tom Hanks) during the adaptation of her cherished novel, Mary Poppins. She refuses to sign away the creative rights unless she can be involved with the film's production; which causes a great deal of frustration among Disney and his creative team.
I confess I haven't seen Mary Poppins in its entirety, just bit's and pieces over the years but I didn't feel lost while watching this particular film, I picked up on certain references and jokes and found it all generally amusing. The overall story of Travers' life is what I enjoyed most about the film, which is told through a series of well placed flashbacks to her childhood, creating a lot of emotion.
The music by Thomas Newman is wonderful; it's beautifully soothing and fits the film perfectly. Going in I had no idea he was involved with this film as I'm sure like most people, never check who is composing the music. I recognised his style almost instantly.
Emma Thompson gives a performance as Travers that is nothing short of sheer brilliance. She is serious that's almost beyond comprehension yet unintentionally funny with her dry English wit and properness. Tom Hanks gives a very charming a performance as Walt Disney. It's a portrayal of that very typical image we all have of Disney. It's sad knowing that he died only two years after the final events in this film; unfortunately from lung cancer, a result of being a chain smoker his entire adult life.
Performances from the supporting cast are all very good. Colin Farrell gives a powerful and tortured performance as Travers' loving but deeply trouble father. Paul Giamatti as a friendly limo driver was a real stand out for me. Jason Schwartzman and B.J. Novak as songwriters Richard and Robert Sherman along with Bradley Whitford are well cast and provide plenty of laughs.
Saving Mr. Banks is a very nice film. I got the impression that some liberties were taken but since when are Hollywood films know for their historical accuracy? That aside, it's a delightful story.
Credit Where Credit's Due

Director: John Lee Hancock
Writer(s): Kelly Marcel, Sue Smith
Starring: Tom Hanks, Emma Thompson, Colin Farrell, Paul Giamatti, Bradley Whitford
Runtime: 125 minutes
Release Date(s): USA: December 20th, 2013 Australia: January 9th, 2014