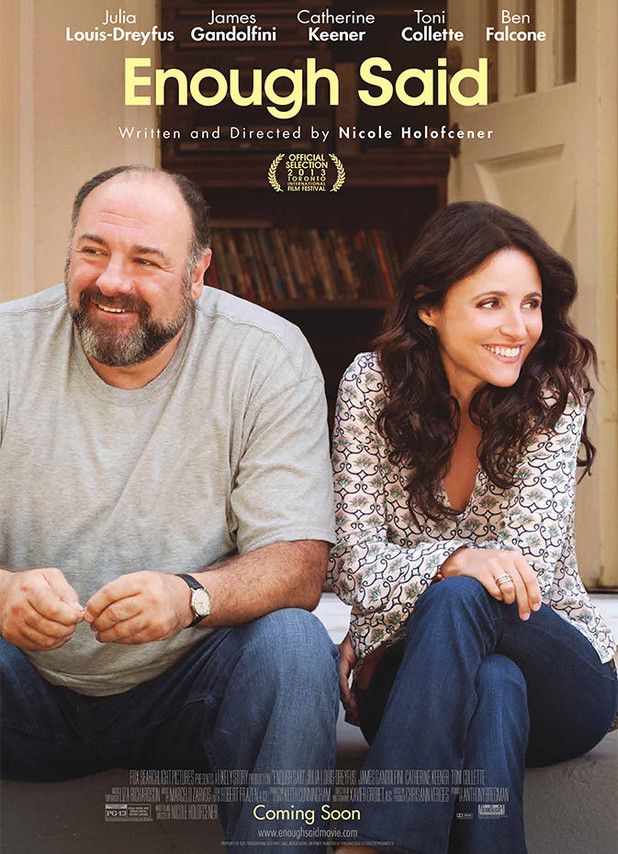 This lovely light comedy from director and writer Nicole Holofcener is the about a divorced woman who begins a relationship with a man she's meets at a party, but soon learns he is the ex-husband of her new friend.
With what is shaping to be a most hectic week for me at work, going to see this film last night was just what I needed. This is such a nice film; it's a film about finding love after divorce. Not something that I can relate to personally but as I'm close to turning 30 and someone who lives by himself with not a great deal many friends, I find myself for the first time really enticed to pursue a proper adult relationship with someone. Because unlike many of the big Hollywood romantic comedies that portray relationships in a rather frivolous and shallow way, Enough Said shows us what's beautiful about a relationship between two people. What we see is genuine and the joy that overwhelms us when it blossoms; the kind of joy that makes life in this world worth living.
Julia Louis-Dreyfus and the late James Gandolfini are both wonderful! Two actors who are well known beyond measure for the two iconic characters they played on television, but it's definitely not Tony Soprano meets Elaine Benes. James Gandolfini as Albert is a kind and gentle person, very far from his former TV persona. It finally hit me last night that he's gone from this world. It's really sad knowing that it's one of his final roles because he's just so good in it. Julia Louis-Dreyfus as Eva is very funny, compassionate and loving; she's just gorgeous. Dreyfus's comedic timing is still second to none.
The writing from Nicole Holofcener is excellent; she's created characters that feel so much like real people. The realistic dialogue, the events and situations are interesting which made for very pleasurable viewing and those in attendance with me absolutely loved it; plenty of big laughs and just an all-around positive atmosphere.
Enough Said is a delightful cinema experience. It's a romantic comedy without the usual flimflam that offers an honest and heart-warming story about two people coping with loneliness, divorce and separation.
By Kevin Bechaz
Credit Where Credit's Due
Director:
Nicole Holofcener
Writer(s):
Nicole Holofcener
Starring:
Julia Louis-Dreyfus, James Gandolfini, Toni Collette, Catherine Keener
Runtime: 93 minutes
Release Date(s): USA: September 18, 2013 Australia: November 14, 2013