STARRING:

Mark Wahlberg,

Mila Kunis & Seth MacFarlane
Seth MacFarlane,

creator of the hilarious and hugely successful animated TV series Family Guy makes his feature film directorial debut with Ted. In which he also stars alongside Mark Wahlberg and fellow Family Guy cast member Mila Kunis.
Ted is an adult yet childish comedy which begins with ten year old John Bennett; a boy with no real friends and who struggles to fit in with the other kids on his street. Then one Christmas morning he receives a large plush teddy bear which he falls instantly in love with. That night he wishes that his bear now named Ted would come to life so they can be best friends. The next morning much to his delight he find that his wish has been granted, Ted is alive and his new best friend.
Fast forward 27 years later, John now played by Mark Wahlberg and Ted voiced by

Seth MacFarlane are still by each other's side. But Ted's influence on John's life is starting to strain John's four year relationship with girlfriend Lori (Mila Kunis).
Upon first hearing about Ted I wasn't overly keen on seeing it. It just didn't look like it would work as a decent comedy and the fact that Family Guy is now half the show it used to be didn't fill me with much hope. But I was wrong; it's really funny, laugh out loud funny in fact. The film feels like one long Family Guy episode, but a very good one with its crude and vulgar trademark humor at its best. It's even structured like Family Guy, with a few hilarious cut-aways and constant references to pop culture. However some of the jokes do wear a bit thin and just miss the mark completely; farts jokes are getting really old.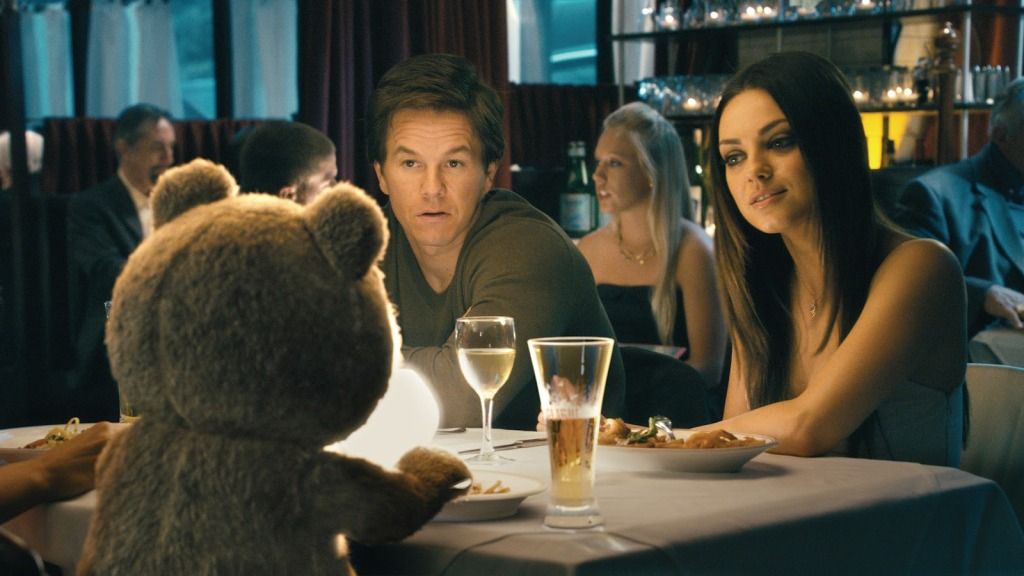 The plot is fairly straight forward and quite predictable but its works fine for the type of film that it is. The film's opening has a very traditionally family feel to it but with a slight adult twist and it's complete with a very pleasant narration by Patrick Stewart. The subplots involving the boss of Kunis's characters played

Joel McHale and an obsessed fan of Ted played disturbingly well by Giovanni Ribisi are uninspired and could have been a lot better.
Performances from the cast are all fine.

MacFarlane

is great as Ted who is simply Peter Griffin as a bear. He sounds and acts almost exactly the same. He drinks, smokes, swears and has little desire to do anything except party and sit around getting stoned watching TV. Mark Wahlberg is very funny and likable as John who like his best friend sits around too much and has little to no prospects in life. Mila Kunis brings a level of maturity to the film; she is definitely the more serious character out of the three but still has some genuinely funny moments. I think the main cast fit together very nicely.
Fans of

MacFarlane's
Family Guy will no doubt enjoy Ted a lot. Apart from lacking in some areas in regards to the plot, it's a straight comedy that's overall all pretty strong and doesn't take itself too seriously; it's a hilariously fun film to watch.