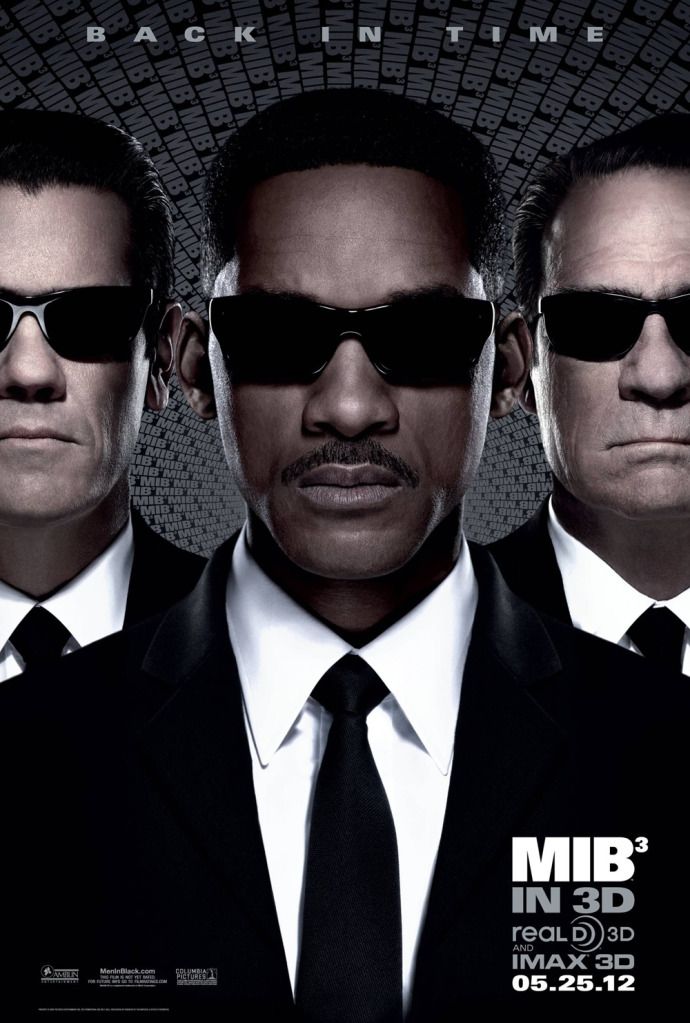 Directed by:
Barry Sonnenfeld
Starring: Will Smith, Tommy Lee Jones, Josh Brolin
and
Jemaine Clement
Released:
2012
Runtime: 106 minutes
Rating: 3.5/5
The men in black are back by lack of public demand. In this instalment Agent J (Will Smith) must travel back to in time to the year 1969 to prevent the murder of his partner Agent J (Tommy Lee Jones) at the hands or should I say hand of an alien criminal named Boris The Animal; actually it's just Boris.
I generally enjoyed it; I thought it was good popcorn sci-fi action flick. There's a nice retro look to the film, I loved how all the different alien creatures from the 60s looked very much like they did in actual 60s sci-fi films. The jokes however are a little flat, some don't work at all. The plot moves along quite steadily but fails to really excel up until the end; it's not as engaging as the original film. Josh Brolin is excellent as the young Agent K, he nails impersonating the voice of Tommy Lee Jones. Will Smith is funny as the wise cracking Agent J, definitely on the mark with his comedic timing. Jemaine Clement is great as the film's central villain Boris The Animal, but whenever he spoke all I could hear was his impersonation of David Bowie from Flight of the Conchords.
There was an earthquake about 10 minutes before the film finished which was a distraction to say the least. The cinema was spared from total destruction but it definitely made for a memorable night at the movies. Go see Men in Black 3, its better than part 2.

3.5/5
A video review is also available on my YouTube channel.