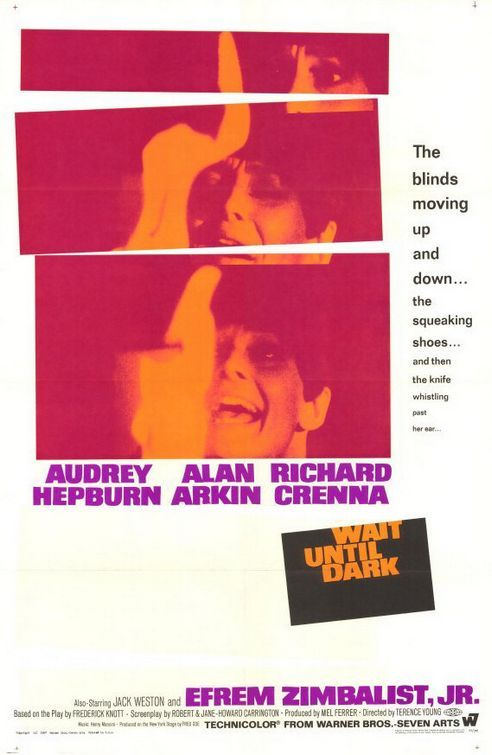 Upon returning home to New York City Sam Hendrix (Efrem Zimbalist Jr.) is given a doll by a strange woman named Lisa who was a passenger on his flight from Montreal, Canada. Some time later two small time criminals Mike Talman (Richard Crenna) and his partner Sergeant Carlino (Jack Weston) arrive at Sam's apartment where he lives with his wife Susie (Audrey Hepburn) who was blinded in a car accident a year earlier. The two men are there expecting to meet Lisa but instead meet her husband Roat (Alan Arkin) who arrives shortly after. Roat reveals to Mike and Carlino that he has killed Lisa for betraying him and now wants the drug filled doll that he is convinced is somewhere in the apartment. Mike and Carlino want no part of it and decide to leave but are black mailed by Roat as he points out to them that they have carelessly left their finger prints all over the apartment while he has reframed from touching a single item. Talman and Carlino then agree but on the condition they both receive a sum of money for their efforts. All three leave and soon come up with an elaborate story that they decide to tell Susie who is now alone in the apartment in order to find the doll, completely unaware to Sam who is away at work.
Mike is first to return to the apartment; he tells Susie that he is an old friend of Sam's who has stopped by in hopes to catch up with Sam for a drink before leaving town. Carlino and Roat soon follow each with their own parts of the story to play out.
This was a real treat, a suspense thriller in ever sense of the word. I was literally glued to my TV from start to finish. Just a couple of nights ago I had the DVD on while hanging some new posters in my study and ever time my eyes caught the screen I had to pry myself away. It took me two hours just to hang about 6 six posters.
The plot is so intriguing; watching the plan that our three bad guys have concocted unfold before us is one of the driving forces behind this film, is keeps it moving along nicely.

The characters are great; we don't know all that much about them in terms of their background but it really doesn't matter, all we know are the essentials. Sam is a photographer, Susie is blind, Mike and Carlino are both petty criminals and Roat is a psychopath. I surprisingly found Richard Crenna's character Mike quite likeable yes is a villain but not to the same degree as Roat, he has a line that he won't cross.


There is little music through out this movie but when there is it's used to great effect, one part in particular makes it feel as if one of the characters is leaping at the screen. Credit really must go to the lighting department; the lighting really adds to the suspense and allows us the audience to experience the point of view of Hepburn's character.
Performances are terrific all round. Audrey Hepburn is superb and incredibly convincing, earning herself her final Academy Award nomination for Best Actress.
Richard Crenna whom I'm a fan of from the Rambo movies gives a very solid performance, I'm glad I finally got to see him in something different. But for me it was Alan Arkin. As I was watching this I'm thinking wow, this is character acting; the sound of his voice, the sunglasses, his clothes, that strange knife, basically telling you what kind of a character you're dealing with. He's the very essences of creepy and disturbed.

This film was released in 1967 but doesn't feel all that dated, probably because 90% of the movie takes place in the apartment which is one of the many things I loved about it. I highly recommend this to anyone who is a fan of the genre; I absolutely loved it and cannot fault it.
Credit Where Credit's Due


Writer(s):
Frederick Knott
,
Robert Carrington
,
Jane-Howard Carrington
Starring:
Audrey Hepburn Richard Crenna, Alan Arkin
Release Date(s): USA: October 26th, 1967