Starring: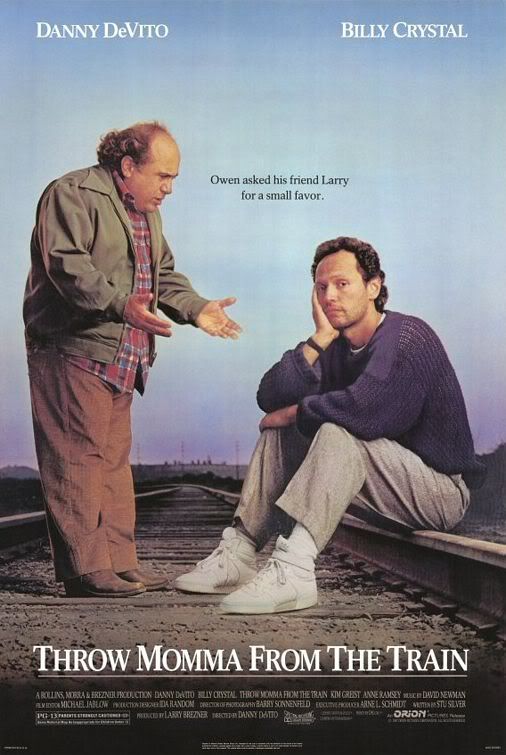 Billy Crystal is Larry Donner, an author suffering from a bad case of writers block and is consumed with rage and bitterness towards his Ex-wife Margaret who published a book under her name that Larry wrote and as a result becoming rich a famous.

Larry is also a writing professor at a community college where he tutors people who want to become authors themselves.
Owen Lift, played by Danny DeVito is a student in Larry's class. A peculiar but kind hearted man child who lives alone with his horrible demanding mother who is played to perfection by Anne Ramsey.
Owen is struggling with writing a crime tale and desperately wants Larry's advice on how to improve it. Larry suggests that he should try watching Hitchcock movies for ideas and structure of a suspenseful story. Owen watches Strangers on a Train but instead of finding inspiration he thinks it was Larry's way of asking him to murder his Ex-wife Margaret and in return Larry killing his mother.
Days later Larry gets a call from Owen who is in Hawaii where Margaret happens to be. Owen tells Larry that "it's done". Larry thinks it's all a big joke but soon discovers it's true and with no alibi is now a prime suspect, while Owen is pressuring him to keep his end of the supposed deal.
Throw Momma from the Train marks Danny DeVito's directorial début, and a great début it was. He has created a clever and hilarious dark comedy which I personally think is quite underrated.
The plot is outlandish and very easy to follow. It's almost like a plot you would find in an episode of a situation comedy or of course a Hitchcock film, minus most of the humorous elements.
There's a kind of quirkiness to this film that I really like. It's not consistent through out the film but there are moments that are deliberating silly, kind of making fun of the old black and white crime suspense genre. A good example is when Owen randomly changes locations in an impossibly short time when on the phone to Larry from Hawaii.
Billy Crystal is great as Larry; delivering endless wise cracks and one liners in a style that's truly his own. His character is that of a tortured man unable to get over the betrayal of his Ex-wife which is eating away at him. Danny DeVito was spot on in his decision to cast himself as Owen; his short stature combined with the character's child like nature works perfectly, creating a likeable an sympathetic man trapped under his mother's dominance.
And not to forget Anne Ramsey who is perfect as Owen's mother. Her performance seems effortless to her, like she isn't even acting. She received her first Academy Award nomination for this role but sadly passed away at the age of only 58 the following year.
Overall, I found this to be a very entertaining little comedy that can be watched time and time again. It's unique in style with great characters and twisted humor.