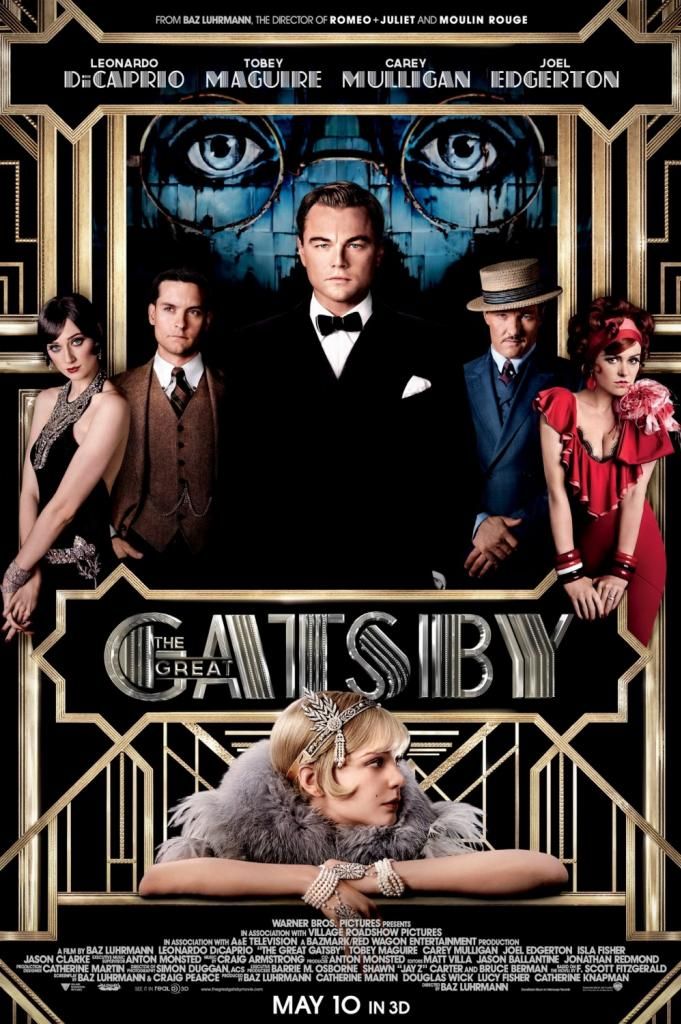 Nick Carraway (Toby Maguire), a World War 1 veteran and Yale graduate arrives in New York City during the summer of 1922. He rents a small modest house on Long Island and soon finds himself drawn into the past and lavish lifestyle of his mysterious millionaire neighbour, Jay Gatsby (Leonardo Dicaprio).
Did I really need to write the above paragraph? Probably not as I'm sure most you out there know basically what the film is about thanks the six month blitz of trailers that have been almost impossible to avoid. But I am writing a review and me being a creature of habit I'll stick to the usual practice.
This latest film by Australian director Baz Luhrmann is of course based on what is regarded as the great American novel of the same name by F. Scott Fitzgerald; which I have not read and really have no desire too at this stage.
I've always felt Luhrmann's work to be all style and no substance and I went into The Great Gatsby expecting pretty much the same. But the biggest draw-card for me was the setting of New York City in the early 1920s. And I'm happy to say that I did quite enjoy this film. Yes it was very stylish and spectacular which made for an absolutely beautiful looking film; and that's coming from someone who chose not to see it in pointless 3D. But to my surprise it did have substance and plenty of it. The balance of the two was very good. I ventured a little out of my comfort zone watching this film, mainly regarding it's genre but it really draws you into this very glamorous and seductive world of endless parties, music and high society.
The story I felt was very strong with a great element of mystery which is what I really loved about it. The character of Gatsby is that of a pretty odd fellow. At first glance he appears to have the perfect life, a man who is in complete control of everything around him but as the story unfolds we see that he's barely keeping it together. He is consumed by obsession for the great love of his life, Daisy Buchanan (Carey Mulligan) who lives just across the bay; so close yet so far. The film boasts a lot of different characters and out of our main five I felt that the one of Jordan Baker who is played by the stunning

Elizabeth Debicki

was the least developed. Her and Nick were suppose to be dating buy I didn't buy their relationship. To me she was just a gossip who thrives on drama; a sexy bitch you could say.
The performances were all fantastic; Maguire, Edgerton, Mulligan and of course Dicaprio were the clear stand-outs. Joel Edgerton in particular deserves a lot of recognition, he was just unbelievable! He reminded me of a young Albert Finney. Toby Maguire I also really liked, he was my favourite character and the only decent human being in the movie.
The modern soundtrack was a little hard to dig at first. Hearing that first song, don't ask me which one was, was really hard to swallow and instantly I was thinking "Yeah… this is going to be hard", but after a while I just didn't notice and it didn't hinder my experience watching the film, but I felt the film could have done without it. Music from the era would have clearly worked.
I would recommend seeing The Great Gatsby, especially if you're a hopeless romantic and also a fan of Baz Luhrmann's other films. It's not a great film but one well worth seeing. But I must say as much as I did enjoy the film, it left me feeling very sad and with a reminder of the grim reality that people can be really horrible.
Credit Where Credit's Due

Director: Baz Luhrmann
Writer(s): Baz Luhrmann,
Craig Pearce
Starring: Leonardo DiCaprio, Carey Mulligan, Toby Maguire, Joel Edgerton
Runtime: 142 minutes


Release Date(s): USA: May 10, 2013 Australia: May 30, 2013