Starring:

Katie Featherston

,

Kathryn Newton

,

Matt Shively

&

Brady Allen
Released: 2012
Runtime: 88 minutes
Rating: 3.5/5
Set five years after the events of the second film in the series; an average suburban family begin to witness and experience strange occurrences in their home when a mysterious woman and young boy move into the neighbourhood.
This makes the second Paranormal Activity film I've seen at the cinema; I saw Part 3 around this time last year. I got what I was expecting with this latest instalment and it was pretty good. It's the same routine as the previous films; strange things start to happen, they intensify, building up to an ending that is somewhat of a disappointment.
The first half of the film is a bit of a slow burner, things happen but they're not all that dramatic yet still I found them to be very effective, more just plain creepy than anything else. And the presence of this strange little boy is very unnerving; he gives off one hell of a very sinister vibe. The use of sound is excellent and also the clever use of an Xbox Kinect makes for some very cool visual spookiness. Our two central characters Alex (

Kathryn Newton

) and Ben (

Matt Shively

) are quite likeable, they have good chemistry and bring a very light and balance element of humour. And as for the film's climax, well it wasn't as over the top compared to Part 3, it was creepy, very quick but still it could have been a little better. I think it's the least disappointing ending out the sequels.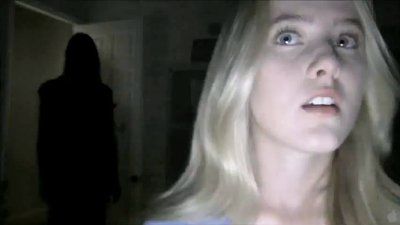 These films are not the type you should take seriously, they're fun, they give us a few good frights and they're great to see in packed cinema; but unfortunately when I saw this one it was only I and two people behind me, not even close to resembling a crowd.
Paranormal Activity 4 opened yesterday in theatres across Australia, it's not so much scary because I'm kind of use to the formula now but it certainly does get the heart pumping. So if you go see it don't expect

anything new, just relax and let your imagination take over for hopefully what you'll find to be an enjoyable 88 minutes and make sure you stay until after the credits.