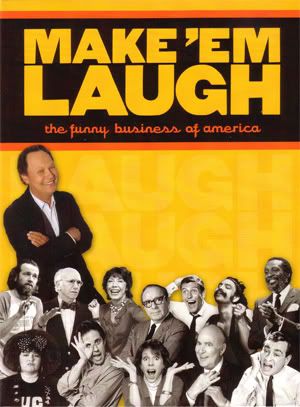 Hosted by Billy Crystal and narrated by Amy Sedaries, this six-part documentary series explores the work of the large variety of comics who have managed to make America laugh for over a hundred years.
Showcasing some of the funniest moments in American entertainment and candid interviews with many of the groundbreaking comics themselves. Make 'Em Laugh is the first primetime television series to look beyond the 'pie in the face' to the face behind the pie". - Anne Beatts - Comedy writer and series consultant.
My Thoughts
This was shown in Australia on the ABC earlier this year and what a treat it was. I've always had such great admiration for stand up comics; when they are up on that stage they're like gods, they're untouchable and they can murder an entire audience of hundreds with nothing but laughter. It's obvious that a lot of time and effort has been put into to create excellent series. The countless variety of hilarious clips have been carefully chosen to showcases the very best in the business and how their work influenced their peers and future generations of comics. The interviews are all very interesting, full of stories and personal experiences of who and what help shaped and influenced them to become the comics they are today. I learnt so much from this series, such as complexity of being a stand up comic, and how it's not just simply getting up on stage with a microphone telling jokes. Overall this is a first class series that has been produced to the highest standards. If you are a fan of this form of entertainment I cannot recommend it enough.
DVD Details:
There are three discs containing two episodes each along with bonus content which includes interview outtakes and favourite jokes.
Picture quality is excellent and looks great up-scaled on a high definition screen.
Disc One
Episode One:
Would Ya Hit A Guy With Glasses? - Nerds. Jerks and Oddballs
Episode Two:
Hiney, I'm Home! - Breadwinners and Homemakers
Disc Two
Episode Three:
Slip On A Banana Peel - The Knockabouts
Episode Four:
When I'm Bad, I'm Better - The Groundbreakers
Disc Three
Episode Five:
Never Give A Sucker An Even Break - The Wiseguys
Episode Six:
Sock It To Me? - Satire and Parody