Director: Tom Hooper
Year: 2010
Running Time: 118 Minutes
Rated: M
Genre: Drama, History
Plot
This is the story of Bertie by Colin Firth, the Duke of York who would later be forced to become King George VI of England, after his brother King Edward VIII decides to advocate the throne to marry American divorcee Wallis Simpsons.
Bertie has suffered from a speech impediment since early childhood, which makes public speaking engagements an agonising embarrassment. Until his wife Elizabeth, later the Queen, played by Helena Bonham Carte, seeks the help of Australian elocutionist Lionel Logue played by Geoffrey Rush. Through a variety of strange and unorthodox techniques and hard work from both men's part over the course a number of years, Bertie's speech improves dramatically giving him the confidence needed to be a king that his country can all stand behind in the face of a pending war with Germany.
My Thoughts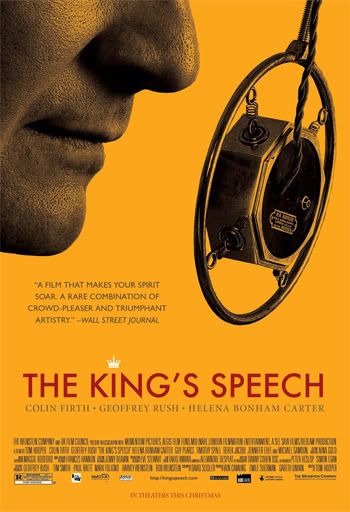 This is such a wonderful movie. Delightful and inspiring that's driven by a showcase of performances that are nothing short of brilliant. Colin Firth is absolutely amazing as Bertie, a tortured man whose pain is so evident when he struggles to perform the task of simply speaking; it's really heart breaking to watch. Geoffrey Rush is great as the unconventional Australian elocutionist, a very caring and somewhat peculiar man who provides many of the film's comedic moments. Helena Bonham Carter is lovely as Queen Elizabeth, who portrays a very patient and loving wife to her husband. And who is far more attractive to look at than her real life counterpart.
Tom Hooper does a wonderful job as director, clearly taking full advantage of the acting talent. And it's such a great story that's so well paced and balanced with a perfect blend of drama and light humour. The relationship between Bertie and Lionel is the real heart of the story which works so well due to her fine performances
The cinematography is excellent with bland colours and great shots of the actors in the many gorgeous sets. And the city of London is completely blanketed with fog to create that true foggy London feel.
The King's Speech is funny, sad, uplifting, inspiring and if you want to see acting at its finest then this is the film to see; an absolute triumph. I enjoyed it so much that I think it's going to be the best film I've seen this year. I very much look forward to seeing it again upon its DVD/Blu-ray release.
5 out of 5.