Director: David O. Russell
Year: 2010
Running Time: 118 Minutes
Rated: MA 15+
Genre: Biography, Drama
Plot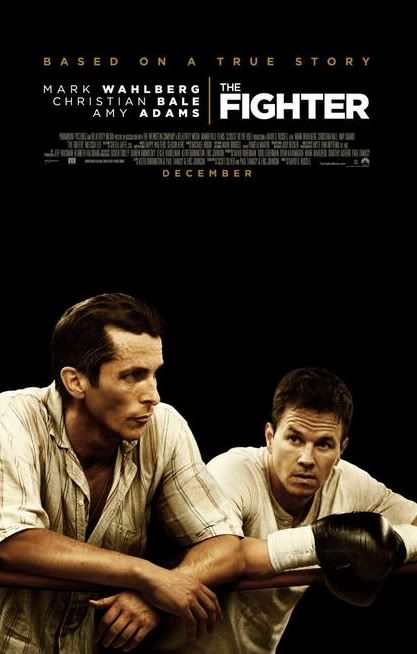 The rise of professional boxer "Irish" Mickey Ward, (Mark Walberge) to his winning of the welterweight boxing title, aided by his older half brother and trainer Dickey Eklund; (Christian Bale) once a professional boxing himself, who's only success was a bought against Sugar Ray Leonard in which he ultimately lost. Now living in his brother's shadow and hopelessly addicted to crack cocaine, he kids himself into trying to plan a come back to the ring while training his brother Mickey.
Both men are from the wrong side of the tracks living in the town of Lowell, Massachusetts. Their mother Alice is Mickey's manager and a very bad one at that, constantly showing favouritism to wards Dickey despite his obvious drug problem and behaviour that is spiralling out of control. After a string of embarrassing defeats in the ring Mickey is growing tired of his unreliable brother and his mother's dominant and controlling attitude.
Thing's begin to improve when Mickey meets local bar girl Charlene, played by Amy Adams, who encourages him to look else where for training and proper management in order to have a real shot of success. Much to his mother's disapproval this causes serious conflict with Mickey's family resulting in some devastating consequences.
My Thoughts
The Fighter is what you could call a typical underdog story, but this is also a very good one.
With solid performances from a exceptionally talented cast, well developed characters, a powerful story that draws you right in and the quite possibly the most amount of unattractive woman to say the least, that have ever been captured in a single film. You'll know when you see them, believe me.
The plot is well structured. We are introduced to the main characters and the film's setting of Lowell, Massachusetts, and then getting a quick but detailed glimpse into each of their lives such as Mickey training at the gym and Dickey with his pals getting high in their friendly neighbourhood crack house.
Profanity is never in short supply reflecting the social class of the film's setting. I think there was enough swearing to rival Scarface.
The boxing scenes are well of course very Hollywood, as they are in most films of this category but they are very exciting and well choreographed. The atmosphere they create is awesome, from the roar of the crowd to hearing and almost feeling all the connecting punches as if you there inside the ring itself. I think if the boxing were made to be more realistic I doubt that it would have the same impact.
Mark Wahlberg gives a strong a genuine performance as Mickey Ward. His character is at times quite pitiful, given his circumstances but he's a guy you can easily like and can cheer for when things begin to go his way.
Christian Bale is phenomenal as the drug addicted Dicky Eklund, giving possibly the best performance of his career to date. He has clearly gone to great lengths to look the part and comes across very convincing. He too is a likeable character; he's not a bad person just someone who has made some mistake in life, some of which have cost him dearly.
As for Melissa Leo, I've never seen or heard of this fine actress before but her performance as Alice Ward is nothing short of fantastic. A despicable woman who is larger than life and is for the most part extremely irritating, but deep down she does care deeply for her two sons and wants what's best for them.
Amy Adams gives a tough and quite a sexy performance as Mickey's love interest. It's refreshing to see her in this kind of role instead of her usual "happier" work.
Overall, I loved this movie. Its excellent story telling with such raw power and emotion that leaps off the screen. Its quality entertainment and I came out of it very impressed with what I saw.