Running Time:
103 Minutes
Genre: Action, Adventure, Drama
Plot
Based on the novel by John Marsden of the same name, Tomorrow When the War began tells the story of eight unlikely high school teenagers who return to from a camping trip find that their country has been invaded; they then band together to fight invading army with a dangerous gorilla style tactics.
My Thoughts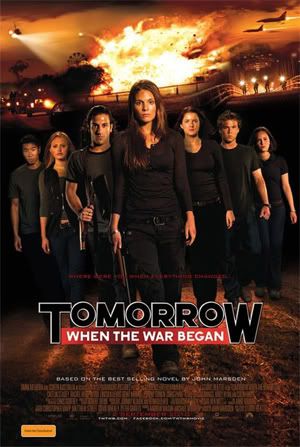 I avoided this film for quite a while because the subject matter makes me quite angry. The thought of Australia being invaded really offends me. I love Australia, it's one of the greatest countries in the world and there is no legitimate reason for any country to invade. But it's just a movie, a work of fiction so maybe I just need to relax a little.
I read the first novel in high school but I found to be very boring and just couldn't get into it. The movie however moves along much faster, I suppose it has to if you are trying to fit a whole novel into just over 90 minutes. The plot I find to be not very believable, if it were based on a real life situation the movie would be over in half an hour.
The characters are very stereotypical; you have the rich girl, an Asian guy, a jock, a stoner, a Christian, a bad boy and a tough chick. Performances are good but not great, there are some moments that will make you cringe, which is also largely due to poor dialogue. Caitlin Stasey as Ellie gives the strongest performance, not a bad young actress for someone who was once on Neighbours.
Action sequences are very impressive, and are almost Hollywood standard, which of course means it does get far fetched; such a petrol tanker being used to bring down a bridge.
I think fans of the novel will enjoy this highly anticipated adaptation. I for the most part did despite it's flaws.